The Africana Womanist concept was adopted by many faculty in higher education. According to Daphne W. Ntiri (2001)Associate Professor of Social Science, Wayne State University, and author of Reassessing Africana Womanism: Continuity and Change: 
Since Clenora Hudson-Weems broke new ground with her 1993 book Africana Womanism: Reclaiming Ourselves, discourse on the place and agenda of Africana women in the women's movement reflects the text's influence. In only six years, this work is in the second printing of its third revised edition. It has been adopted by faculty in several higher education institutions in as far away places as Africa, Brazil, Japan, and the Caribbean Islands. Adoption at national universities includes California State University-Long Beach, Florida A&M, Indiana State University, Northern Illinois University, San Francisco State University, Temple University, the University of Missouri-Columbia, and the University of Utah to name a few. (p. 163)
 Today, there are Africana Women's Studies departments and organizations focusing on the study of women throughout the Africana Diaspora.  There are  undergraduate and graduate programs that sponsor colloquiums, seminars, internships, that contribute an Africana WoManist perspective to the curriculum, for example: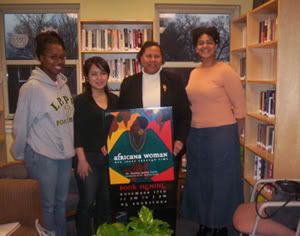 The Africana Women's Nexxus Institute in Washington, D.C., was founded by historian Dr. Cynthia Jacobs Carter.  Dr. Carter is author of "Africana Woman: Herstory through Time."  
Africana Women's Studies (AWS) at Bennett College in the Department of History, Philosophy, Religion, and Interdisciplinary Studies, coordinates the development of curricula focusing on the study of women of the African Diaspora. The Program sponsors colloquia, seminars, curricula, and an annual summit featuring renowned scholars in the field.  (http://www.bennett.edu/AWS/aws.html)
Clark Atlanta University's Africana Women's Studies (AWS) Department was founded in 1982:  This Africana Women's Studies Department is the only degree-granting women's studies program located in an historically black college in the United States, the only women's studies program in the United States which offers the doctoral degree in Africana Women's Studies, and currently, it is the only Africana women's studies program in the world.AWS provides opportunities for the systematic analysis of the convergence of gender, class and racial bias. It also focuses on the comparative examination of the contributions, problems, strategies and concerns of Africana women. Analytical approaches that rigorously compare and contrast the lives of all women by class, age and color without regard to their geographic location are strongly encouraged.  AWS is cross-cultural, national, international and interdisciplinary in its focus. Similar to many nontraditional, interdisciplinary programs and departments, AWS has a small, stable core faculty with faculty associates from traditional departments. (http://www.cau.edu/Academics_Curriculum_Women_AAS.aspx)
....also grade school instruction:
 "Edutainment"
The Jacksons are the "Dynamic Duo" behind "G.E.T. H.Y.P.E." ( Getting Everyone To Help Youth Produce Excellence) Lena H. Jackson is an illustrator and cartoonist, Kevin L. Jackson is a song writer and hip-hop performer; together they are both authors and educators who specialize in "Edutainment" for today's youth!